AISHU Cloud Service Provider (CSP) Partner Program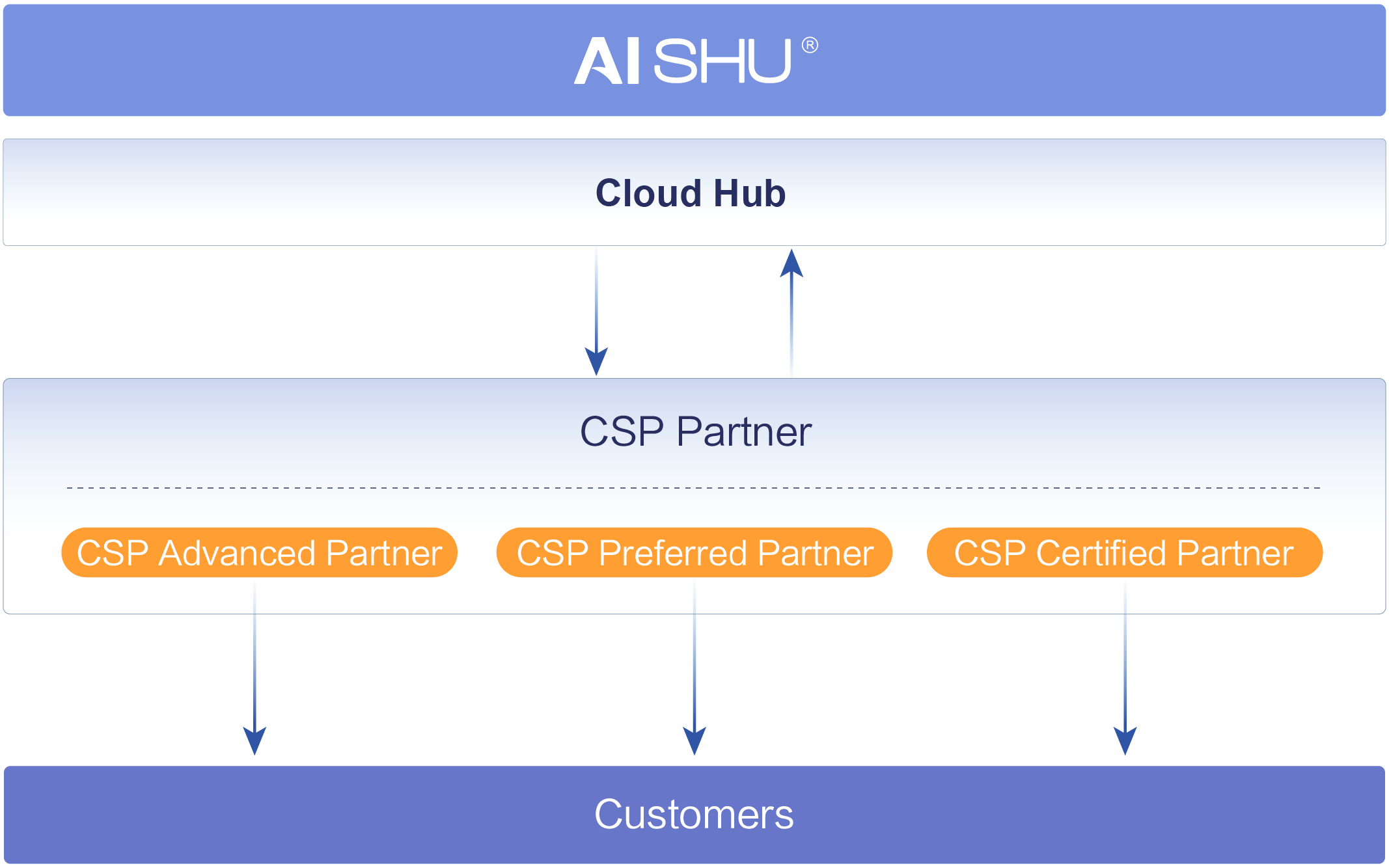 With the development of enterprise digital transformation, data has been extended from aggregation management to in-depth mining and use. At the same time, the promulgation of laws related to data security and personal information protection will enable industries that regard data as a key production factor to continue to maintain strong demand and rapid growth.
Cloud Computing has been popularized in more than 95% of enterprises. The flexible expansion, on-demand purchase and simple maintenance features of cloud and subscription models have been favored by customers.
Therefore, driven by customers' new purchase and usage patterns, AISHU CSP Partner Program is being implemented at an accelerated pace.
How to Become An AISHU CSP Partner
An Online Partner Service Community Based on AISHU Cloud Hub
Partner Entitlements
Broader Business Scope
Enter and grasp the fast-growing intelligent data management and analysis market with the fastest startup speed and the lowest initial investment.
Steadier Revenue Growth
Develop and manage customers together with AISHU with the advanced business model of cloud and subscription to achieve long-term and steady revenue growth.
AISHU's Support Commitment
Build a partner network with AISHU to empower each other and grow together.
Broaden Your Business Scope
•Expanded value-added services
For cloud service provider partners, after joining AISHU CSP, you can integrate AISHU AnyBackup and AnyShare cloud and subscription services with your cloud infrastructure resources to design solutions, providing customers with one-stop and economical data disaster recovery services and content cloud services solutions.
•Expanded business model
For product sales or integrator partners, after joining AISHU CSP, you can quickly get the operation capabilities of AISHU cloud and subscription services through Cloud Hub, and sell and operate AnyBackup and AnyShare cloud and subscription services to customers to realize the upgrade of business model.
Sustained and Steady Revenue Growth
AISHU hopes to promote partners to invest resources to sell AnyBackup and AnyShare cloud and subscription service solutions through sustained and considerable profits to share success with partners.
•Flexible pricing strategy and revenue model
An economical and widely applicable price mechanism, as well as flexible revenue model, helps partners quickly achieve steady revenue growth.
•Efficient online sales process management
The standardized online sales capabilities provided by AISHU Cloud Hub can help partners quickly implement the entire process management, including online configuration, quotation, order and service subscription, greatly improving the order conversion efficiency.
AISHU's Support Commitment
As a member of AISHU CSP Partner Network, you can get extended support and resources related to AISHU cloud and subscription, including:
•Business support
Business opportunity dispatch support in the designated area;
•Training services
Training and certification services for AISHU CSP sales, pre-sales and after-sales;
•Technical support
7*24 second-tier technical support services, including hotline support and remote support;
•Operation platform
Free unified cloud service operation platform to help AISHU CSP achieve online operation management of AISHU cloud services.
Support and Resources
Type
Benefits
Advanced Partner
Preferred Partner
Certified Partner
Sales support
Basic sales rebate
✓
✓
✓
Leads dispatch
×
✓
Priority
Sales support
✓
✓
✓
Dedicated partner manager
×
✓
✓
Incentive plan
✓
✓
✓
Marketing support
"AISHU CSP Partner" logo authorization
✓
✓
✓
AISHU ecosystem event participation
Leading
Superior
Authorized
Partner branding campaign support
✓
✓
✓
Marketing Develop Budget (MDB)
×
✓
✓
Technical support
Free offline professional technical training
✓
✓
✓
Online training with lab environment
✓
✓
✓
POC environment for project basis
✓
✓
✓
Training support
Online partner community training
✓
✓
✓